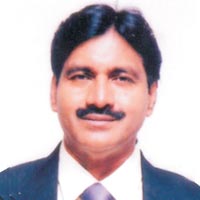 After graduation in Electrical Engineering, Started career with the Maharashtra State Electricity Board (MSEB) from1974 and later resigned to lay the Foundation of EV GROUP. Incorporated Engineering Company, VECIPL having a CLASS A without limit registration in CPWD - Central Public Works Department, CIDCO and other Govt. Bodies
Major Achievements - 600+ Engineering Contracts Executed Successfully PAN INDIA
Main Electrical Contract of NRI Seawoods Estate, CIDCO under Architecht Hafeez Contractor
Palm Beach Marg / Mulund Airoli Bridge complete Electrical Works, MSRDC
Gharounda and other Mass Housing Projects Electrical Works for CIDCO
VASHI / JUINAGAR / SANPADA/ NERUL/AIROLI / CBD / PANVEL / KHARGHAR Railway Station Complexes Power Augmentation and Electrification
Substation Works/ Downstream Electrification of Data Centres at Airoli and Vashi for SIFY TECHNOLOGIES Ltd ,
Incorporated Construction and Real Estate Companies under EV HOMES Constructions Pvt. Ltd. Having a CLASS B registration in CPWD and other Govt. Bodies. It undertake Development of properties and also Redevelopment of various Clusters in and around Mumbai under EV & SARAF Realty.

Major Achievements
ORION -1/Storied Residential Bldg. with an Australian Swimming Pool at Roof, Navi Mumbai n MILLENIUM PARK - 200 residential and Commercial Units in Nerul, Navi Mumbai.
SHRADDHA & AVNI - The Largest Cluster Re-development till date under Execution in Navi Mumbai
KINGSTON TOWER -182 Affordable Apartment Project ongoing, Kerala
Expanding the Indian Venture into the Middle East E.Ve.lnt. LLC. In Oman and EV Tech Saudia LLC
in KSA a Construction & MEP Company with specific focus on Real Estate was established in 2010.
Major Achievements in OMAN
Completed and Handed over 7 Construction Contracts for High Net worth Clients
Currently Executing 3 Major Construction Contracts
Strategic Achievements
30 Real Estate Projects, Residential cum Commercial
Acquisition of more than 100 Acres in strategic PAN India Locations
ISO 9001 : 2008 Certification
Instrumental in Setting up and Heading Operations in OMAN
In the process of finalizing formation and JV Partnerships in KSA
Successfully Launched and Executed the First Overseas REAL ESTATE Project in Muscat
Tie up with SBI, OMAN for Debt Funding Eve. International LLC, Oman
Tie up with Bank Muscat for Financing Evening Homes, Real Estate Project in Muscat
Successfully executed and completed several Construction Contracts for Major Clients in OMAN
In the process of Finalizing Major Deals with Government Bodies and other MNC's in OMAN